Tokiwa Hotel Hot Spring


The Historic Yumura Hot Spring ? healing the mind and body
The Yumura Hot Spring has a 1,200 year history, and is known as a secret bath of Shingen Takeda,
a pre-eminent daimyo of feudal Japan. The spacious men's common bath has a panoramic window,
and wooden walls and ceiling. An open-air bath can be found outside this in the garden so that you can
relax while enjoying seasonal scenery. The women's common bath has big sunny window surrounded
by greenery. The open-air bath outside this is made of cypress for a rich wood fragrance.
Please leisurely immersed yourself in our relaxing hot spring bath for refreshment.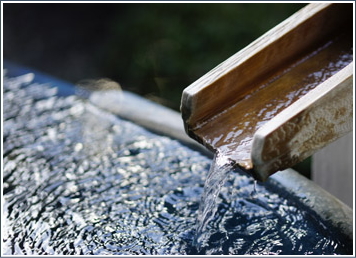 ■
Spring Quality
 Sodium・calcium chloride・sulphur spring
 Heating
Yes
 Wintertime(when outdoor air temperature is under 15℃)
 to prevent low water temperatures
 Addition of water
No
 Circulation
Yes
 A:For sterilizing of legionella, coliform bacilli and viable bacteria and
  humidification during wintertime  
 B:For temperature homogenization in bath
 Bath additive
No
 Disinfection
Yes
 For sterilizing of legionella, coliform bacilli and viable bacteria
 ① 0:30-4:30 Sterilizing by sodium hypochlorite
 ② 0:00-24:00 Ultraviolet sterilization with germicidal lamp


The cottages surrounding the central courtyard, which have been loved by many litterati and members
of the imperial family, have kakenagashi (hot springs directly from the source) open-air baths and
they have all different characteristics such as construction from cypress, pottery or Butai-zukuri
(a stage-like construction). Please luxuriate in these private hot spring baths hidden in the private
gardens of the cottages.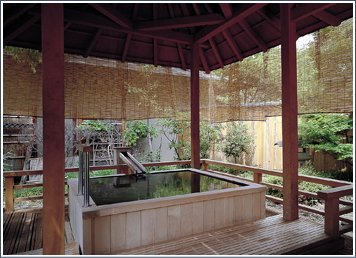 ■
Spring Quality
 Sodium・calcium chloride・sulphur spring
| | | |
| --- | --- | --- |
|  Heating | No |  Kakenagashi (hot springs, directly from the source) |
|  Addition of water | No |  Kakenagashi (hot springs, directly from the source) |
|  Circulation | No |  Kakenagashi (hot springs, directly from the source) |
|  Bath additive | No |  Kakenagashi (hot springs, directly from the source) |
|  Disinfection | Yes |  Ultraviolet sterilization with germicidal lamp |