Tokiwa Hotel Cuisine


Using seasonal fresh ingredients, the chef creates dishes which you can not only taste but also visually enjoy.
Signature local products are "Koshu-gyu" which is marbled beef from Yamanashi,"Wine Pork"
fed with wine lees ? its fat has strong umami flavor.
The chef Ono with 40-years experience, always thinks about the combination of those unique meats
and other local seasonal ingredients.
Please find joy in this cuisine which has been developed over 80 years.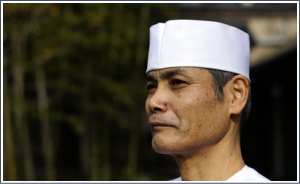 The Executive Chef Hideji Ono
Born August 26th, 1951
Born in Hamamatsu, Shizuoka Prefecture. Started his career at the age
of 16, working for various high-end traditional Japanese restaurants.
Promoted sous chef of Tokiwa Hotel in 1971, training under the former
executive chef Nakagawa. Another 2 years were spent polishing
his technique in a Tokyo restaurant, then taking on the mantle of head
chef of Isawa Tokiwa Hotel in 1993. He has been executive chef of
Yumura Tokiwa Hotel since 1997.